From Darkly Dreaming Dexter:

"How long have you been doing this?"
I search Harry's face, then look out across the clearing to the beach. Our boat is there, moving gently with the surge of the water. The lights of Miami are off to the right, a soft white glow. I can't figure out where Harry is going, what he wants to hear. But he is my straight-arrow foster dad; the truth is usually a good idea with Harry. He always knows, or he finds out.
"A year and a half," I say.
Harry nods. "Why did you start?"
A very good question, and certainly beyond me at fourteen. "It just--I kind of...had to," I tell him. Even then, so young but so smooth.
"Do you hear a voice?" he wants to know. "Something or somebody telling you what to do, and you had to do it?"
"Uh," I say with fourteen-year old eloquence, "Not exactly."
"Tell me," Harry says.
Oh for a moon, a good fat moon, something bigger to look at. I clutch another fistful of pine needles. My face is hot, as if Dad has asked me to talk about sex dreams. Which, in a way-- "It, uh... I kind of, you know, *feel* something," I say "Inside. Watching me. Maybe, um. Laughing? But not really a voice, just--" An eloquent teenaged shrug. But it seems to make sense to Harry.
"And this *something*. It makes you kill things."
High overhead a slow fat jet crawls by. "Not, um, doesn't *make* me," I say. "Just--makes it seem like a good idea?"
---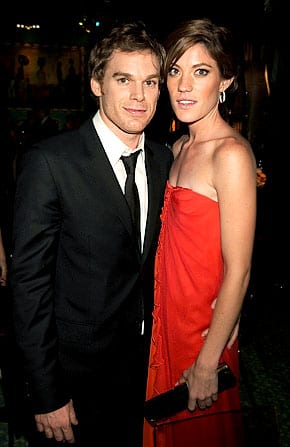 Why am I telling this to you? I'm not really sure. But I was standing in line to get into a panel to hear the cast and producers of the television show Dexter, based on the above book (which if you haven't heard of it, the premise is he's a serial killer with a vigilante code to only kill those who deserve it. That's his M.O. That and cleanliness), and suddenly it occurred to me I might not get in. It was very important I see Michael C. Hall and Jennifer Carpenter... omg thinspo... and I started praying to someone or something. I said I would recover. Give up my ED.

Long story short, I did get in. I would still lose 8 pounds after that, despite my promise (I haven't gotten stricken by lightning so I guess my prayers were for naught). But what it made me think about, right in that giant ballroom surrounded by crazy weirdos who think they can associate with a serial killer, is do I have a *Dark Passenger* ? As everyone around me was thinking about the panel, the famous people 30 feet from them, I was wondering if I really had to give up my eating disorder. There was bargaining going on in my head. I felt totally disassociated from everyone there, and for a strange moment, I started to get this weird understanding. This must be what this idiot whiny Michael C. Hall is always talking about when he's in his head narrating. Everyone's in Miami laughing and working, and he's thinking about his kill trophies or faking emotions.

I was thinking about how fat I must have looked in my shorts. What I was going to have to eat for dinner after the panel. Did I really have to give up my ED since I had a seat? And how was I going to do it?

I had a chance to ask something to the panel. Of course, with the writers not being there, the producers gave me this dumb scripted answer. If I had to do it over, knowing it was completely anonymous, I probably would have said:

"I'm an anoretic with Major Depressive Disorder, can you give me a good reason to believe that I shouldn't see myself in Dexter?"

---

Dexter, Season 2.

Our main character--a sheep in wolf's clothing--during an Narcotics Anonymous meeting, where he feels he can finally discuss and explore his Dark Passenger:



---

No! Better question:

"Correct me if I'm wrong in this interpretation, but it seems to me that the 'serial killer' is a metaphor for Dexter's true psychological co-morbid diagnoses of Eating Disordered Not Otherwise Specified (EDNOS) with deliberate self-harm (DSH) tendencies and an addiction to amphetamines? Yes? That's what I thought. Thank you."